Episode 82 | Noah Lyles - LIVE from Las Vegas! | On Track Podcast
Posted by Coach J.T. Ayers on Apr 26, 2023
On Track & Field podcast alum, Noah Lyles (Olympic: bronze, 3x World Champion: gold, American Record holder: 19.31, @forbes 2023: 30 Under 30), joins J.T. live from Caesars Palace in Las Vegas and updates us on his training and his YouTube series and how he readies himself for race day.
Subscribe to Noah on YouTube: https://www.youtube.com/@noahlyles18
Follow Noah on Instagram: https://www.instagram.com/nojo18/
Follow Noah on Twitter: https://twitter.com/LylesNoah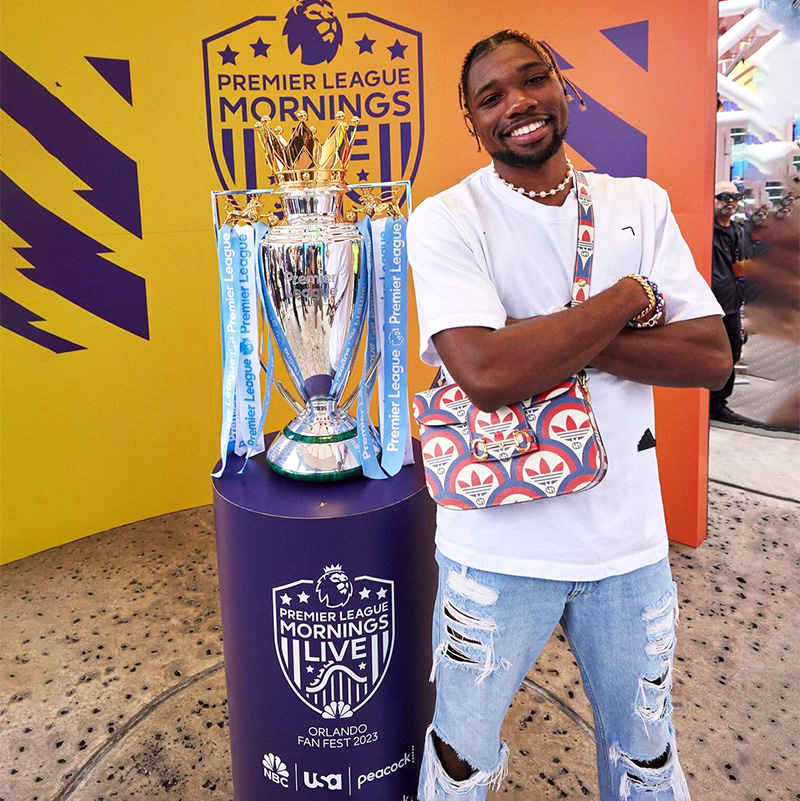 Name: Noah Lyles
Sport: Track and Field
Discipline(s): Track and Field
Event(s): 200-meter
Height: 5-11
DOB: 7/18/1997
Birthplace: Alexandria, Va.
Hometown: Clermont, Fla.
High School: TC Williams (Alexandria, Virginia)
Team/Club: Pure Athletics
Coach(es): Lance Brauman
Olympic Games
2020 Tokyo Olympic Games, bronze (200m)
World Athletics Championships
2022 World Athletics Championships, Oregon, gold (200m)
2022 World Athletics Championships, Oregon, silver (4x100m)
2019 IAAF World Championships, gold (200m, 4x100m)
2019 IAAF World Relays, silver (4x100m)
2017 IAAF World Relays, silver (4x200m)
2016 IAAF World U20 Championships, gold (100m, 4x100m)
2013 IAAF World U18 Championships, silver (Medley Relay)
Youth Olympics
2014 Youth Olympic Games, gold (200m)
Other Career Highlights
2022 Müller Indoor Grand Prix, gold (60m ind.)
2020 U.S. Olympic Team Trials, gold (200m), seventh (100m)
2019 Toyota USATF Outdoor Championships, gold (200m)
2019 IAAF Diamond League Champion (100m, 200m)
2018 USATF Outdoor Championships, gold (100m)
2017 USATF Indoor Championships, gold (300m)
2015 Pan Am Junior (U20) Games, gold (200m)
2015 USATF U20 Championships, gold (100m, 200m)
Biography
The biggest challenge for the Olympic Games over the next decade will be finding a figurehead capable of shining as brightly as Usain Bolt. While it is unlikely that anyone will be able to completely match the charisma and star quality of the once-in-a-generation Jamaican – there is a sprinter who might just come close.
Noah Lyles, a 24 year-old, from Gainesville, Florida, is already running faster than Bolt did at the same age. He is dominating the 200m, where he has a fastest time of 19.50 seconds, and looks capable of becoming a 100m great too – with a fastest time of 9.86 seconds. In 2017, he set a new world record for the indoor 300m.
Lyles' 19.50 – set in 2019 – is, incredibly, the eighth fastest time ever run. Nobody has covered half the track as quickly since Bolt and Yohan Blake at the London 2012 Olympic Games. Only Bolt, Blake and Michael Johnson have run 200m faster, ever. And he did it in a slight headwind, too.
Lyles has been on Olympic fan radars for six years, since he won the 200m gold medal for USA at the Nanjing 2014 Youth Olympic Games. He then went on to confirm his potential in the Diamond League over the next few years.
At the 2019 World Athletics Championships in Doha, however, he really stepped up – taking gold at the 200m and as part of the 4x100m team.
With the might of the World Championships behind him Lyles arrived at his Olympic debut as a favourite for the 200m. However, it was clear from the qualifying rounds that the American was to be tested in Tokyo.
Easing up too soon in his heats, Lyles made it through the final qualifying but only as the fastest loser. In the medal race, the man tipped for big things was pipped to the line by Andre de Grasse of Canada and compatriot Kenneth Bednarek, leaving him with the bronze.
An extrovert, songwriter and funny guy, Lyles is also brimming with the kind of personality that makes him a marketing dream.
"Yes, it's nice to be fast, but what could take you over the top?" he said recently. "Usain Bolt, household name. Transcended the sport. Michael Phelps, swimmer, transcended the sport. What is going to take you from being just popular in track to being popular in the world? By being different or by being you. You can't get to that point by being somebody else."
---
About On Track & Field Podcast
By On Track & Field, Inc
The weekly On Track Podcast, hosted by Coach J.T. Ayers, covers all things Track & Field and Cross Country. Listen to some of the most respected coaches in the world, hear from the biggest athletes in the sport and keep up to date with the leading trends in training. New episodes drop every Tuesday morning!
Subscribe to the podcast: podcasters.spotify.com
---