Whitney Ashley | Track and Field Blog
Posted by Staff on May 22, 2022
Born: February 18, 1989
Resides: Chula Vista, California
PB, Discus: 212' 7"/ 64.80m (2015)
PB, Shot (Indoor): 57' 9-1/2"/ 17.62m
Olympian: Rio de Janeiro, 2016
"She hated the discus!" They chuckle in remembrance. So, what happened? "IT loved HER!"
Kicking back in a couple of folding camp chairs, Angela Washington, and Coach Lloyd Higgins reminisce about On Track's 2018 "cover athlete"—Olympian Whitney Ashley. It is a warm Southern California autumn afternoon at the University of La Verne's discus ring, as "Whippy" spins for the camera.
Whitney was 11 when Angela signed up her daughter and two sons for youth track in an effort to promote a healthier family lifestyle. Whitney gravitated to the shot put, developing the skill that later made her the most likely recruit when her mother was tapped to coach the throwers at J.W. North High in Riverside, Calif. The pair would drive in 40 minutes each day from their Moreno Valley home—Angela, to work as an instructor for special needs students, and Whitney, off to her "job" as a high school student. During track season, they would meet at the ring after class.
With no experience, armloads of instructional videos and pure determination, mother and daughter set out to learn to coach and throw, respectively, attending camps and clinics whenever possible. "Her junior year, she fell in love with the shot," says Angela. But having command of that four–kilo ball was only the beginning. Angela knew her 40-foot-plus shot putter could bring in even more team points by adding the discus to her repertoire, so she persisted, encouraging the high school senior to experiment with the disc, which she would throw from a standing position.
Following up on a referral for private coaching, the pair sought out Coach Higgins, a regional "guru" with a reputation for developing younger throwers. Part uncompromising mentor, part father figure, Coach Higgins introduced a new idea. Since Whitney was not yet a phenom in either her shot or standing discus throw, why not try adding the hammer to her resume in order to maximize her point–scoring value on the college scholarship market? With his guidance, Whitney learned to complete a single turn, enabling her to launch a hammer over 150 feet and become a triple event thrower—Coach Higgins' recipe for athletic scholarship success.
"Deep down inside, she is tremendous ... she's a go-getter in her own way, but she's not overt," observes Coach Higgins. "Once she's convinced herself she can do something, she excels."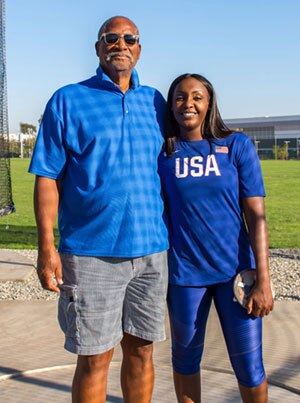 After a stop at Cerritos College, Whitney would get that athletic scholarship to attend San Diego State University, enabling her to study for a degree in journalism. When she joined her new teammates at the SDSU ring, Coach Boldi Kocsor was amazed to learn Whitney had been able to put up numbers good enough to earn a scholarship without an established discus technique. It was there, as a redshirt athlete under Kocsor, and then Dorian Scott, she would finally learn to spin in the discus.
"Not many people know this, but we only worked on my discus for about three months before I went to Nationals," confesses Whitney, who credits Scott for helping her build her strength through a weightlifting regimen that put a solid 20 pounds on her 5'8" frame.
Whitney proved a very good investment for SDSU. She was twice named a Division I All-American, and in 2012 she became the first SDSU athlete to bring home a national title in 26 years by taking first in the NCAA discus event with a throw of 196'-10" (59.99m), improving her previous PB by almost 14 feet. She put a big bow on her college career by setting school records in discus, hammer and indoor shot put, as well as finishing her degree in 2012.
As 2012 was also an Olympic year, Whitney's season performance earned her a spot at the U.S. Olympic Trials in Eugene, Oregon, a chance to compete for gold in London. Whitney happens to be a grand-niece of Alice Coachman Davis, the high jumper who became the first black woman to win an Olympic gold medal when she took first place in her event at London's Wembley Stadium in 1948. While it would have made a great story for Whitney to have been able to retrace Auntie Alice's Olympic journey, she had to settle for a disappointing 22nd place in Trial prelims, barring her from the finals.
While reflecting that it might be time to move on to preparation for a career in athletic administration, Whitney bumped into veteran Coach Art Venegas, a chance encounter that set things in motion once again. Telling her he'd watched her in warm–up and believed she had the potential to throw farther, he extended an invitation to come to work with the staff at the U.S. Olympic Training Center in Chula Vista, where he was directing the throws program at the time. Since taking him up on the offer, she has not failed to make a U.S. World Championship or Olympic team. "He would say, 'We are going to build that engine,'" recalls Whitney. "I went from 196 to 213 feet," she says. "Coach Venegas wanted to equip me with the confidence and knowledge to analyze my own performance, and be able to make quick adjustments without having to rely on him."
To date, the discus—which, admittedly, she is still learning to throw—has taken Whitney to competitions in 27 countries (don't get her started on Swiss chocolate!), including the World Championships in Moscow (2013), Beijing (2015) and, last year, London. Her easy first–place finish in the 2016 Olympic Trials (204'2" / 62.25m) set her up for a berth on the U.S. team headed for Rio de Janeiro.
For Whitney, South America's first Olympic Games proved to be one of those heartbreaking examples of what four years of preparation can come down to. "It began to rain extremely hard in Rio, so they delayed us," she recalls. "We had to remain outside. My body was cold and I couldn't find my form when they restarted the competition. It was really tough." Unable to put up a mark, Whitney tasted a bitter reality of her sport.
What does she do when she suffers a set-back? "For me, when I have a bad day, I don't need to care, if that makes any sense. Go home. Go out. Eat and start the next day as if it never happened...have a short-term memory when it comes to bad things so that they don't roll over into the next practice and the next thing you know, ten, twelve bad practices and it carries on to your meets and your season just goes into the tank, and that's happened to me before."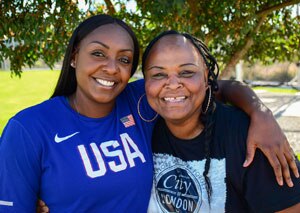 Changing things up helps, too. Recently, Whitney has taken up boxing in the mornings, and that, in addition to her love of shopping and doing crafty DIY projects (her weight coach has nick-named her "Sparkle Pony" since she added bling and glitter to her lifting shoes), helps relieve the pressures of training and competition.
Her strengths? Speed and adaptability." I can make changes in real time." What she needs to work on? Learning to trust that the experts know what they are talking about when they tell her she has what it takes. What advice would she impart to an 11-year-old Whitney? "Believe! If you start hearing something [good about yourself ] enough, there is something there. I wish I'd believed in myself sooner."
From here, Whitney will take her athletic career a year at a time. The best may be yet to come. Don't the great ones peak in their 30s?