On The Cover ... Conor McCullough | Track and Field Blog
Posted by Staff on Dec 31, 1969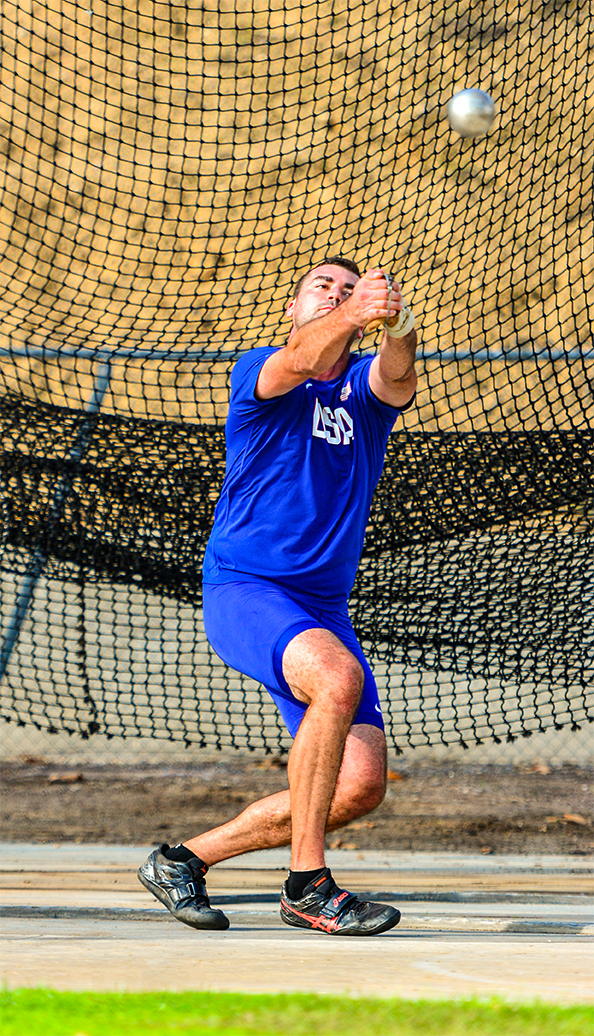 Born: January 31, 1991
Height: 6' 5"
Hometown: Canoga Park, California
Resides: Culver City, California
PB, Hammer: 78.14m / 256'4"
(Note: This spotlight was written in December of 2019, prior to the postponement of the Tokyo Olympic Games.)
It's been more than a decade, and here we are, back at the ring at Moorpark College with hammer thrower Conor McCullough. When he walked in the door at On Track looking for wires this past summer, we did a "double-take," barely believing this was the same person we photographed for our 2009 On Track catalog cover. That was a high school boy. Standing before us, fresh from clinching the USATF hammer throw title with a personal best throw of 256'4" (78.14m), was a fully formed Olympian!
Last time we had him in our view finder, Conor was a Chaminade College Prep senior who had set the national high school record by hurling a 12–pound hammer 260'(79.2m), looking ahead to a college career. He already had an IAAF World Junior Championship second–place finish under his belt, not yet knowing he was destined to nab the gold medal at the 2010 event with a throw of 80.79m (265'), a feat that would set both a national junior and championship record in the process.
As it turns out, that fresh-faced kid would leave the Southern California home he shared with his father—the Irish Olympian (1984, '88) also known as Conor McCullough—and younger brother, Brian, to begin the next phase of his education at Princeton University. Under the supervision of Coach Fred Samara, young Conor followed a training regime very similar to that set out for him by his hammer thrower father and "Coach Mac" (Bob MacKay), who helped him with his shot and discus.
As Conor describes it, "a combination of factors" conspired to complicate his Ivy League experience. "The experience was really good, the team was great, the coaches were great," says Conor. "Trying to train at a really high level and achieve success in the classroom were a challenge. And then my dad got hurt," he says, reflecting on a family crisis that brought Conor back home to oversee a year and a half of his father's post–surgical rehabilitation.
With his father sidelined, Conor stepped in to take the lead in their single parent home as a surrogate father to Brian, helping his younger brother with those things his father had once been able to handle.
Eventually, Conor ended up transferring to the University of Southern California, where he says he was welcomed with open arms by the team's throwing coach, Dan Lange. "When USC decided to take me on, I wasn't eligible, so they took a risk," says Conor. "I had to appeal to the NCAA and explain the whole situation and demonstrate that at USC, I was making things work. They did say 'yes' after some time, and I got a sixth year of eligibility. I was grateful that I was able to win a National Championship for [USC] and make it worth their while."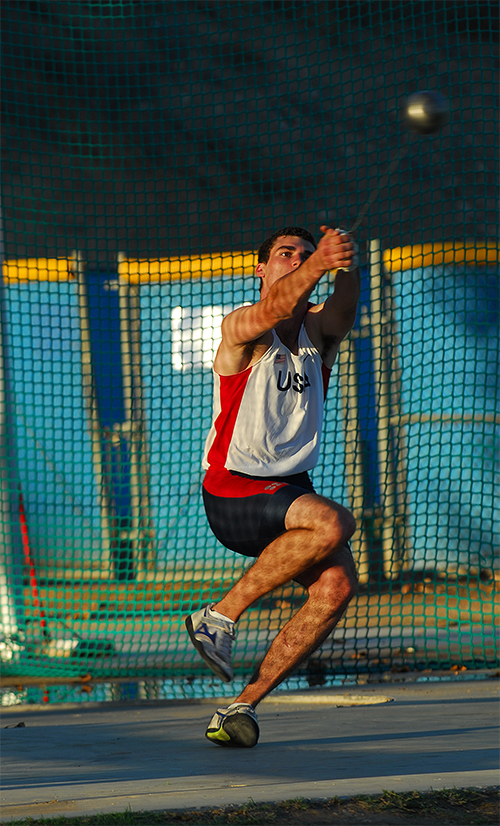 Having previously stepped up to the heavier senior implement, Conor won that 2015 NCAA title with a throw of 76.91m (252'4"), besting his nearest competition by more than 17 feet. The next month, he participated in the Pan American Games, earning a bronze metal, behind his U.S. teammate Kibwe Johnson and Roberto Janet of Cuba.
In 2016, Conor's hard work paid off again. Having finished out of the medals during his 2012 Olympic Trials debut, Conor was vindicated four years later when he secured a berth on the U.S. national team with a throw of 243'4". At the time, he was short of the Olympic qualifying standard, but ultimately was able to compete in Rio de Janeiro. Marching into the stadium behind the highly decorated Olympic swimmer Michael Phelps is among Conor's most cherished memories. "I sacrificed a lot to do that," recalls Conor. "It was a great moment, one I'll never forget, and it was after almost 48 hours of travel to get there."
While Conor was making the long trip from Los Angeles to the Olympic Games by way of Houston—where the U.S. team was fitted for their team uniforms—Conor's father and brother were breathlessly waiting to see if a hastily organized "GoFundMe" campaign initiated by a family friend would come up with the money for Team McCullough to share the Olympic experience together. By the time Conor landed at the airport in Rio, his family back home had what they needed to join him.