In Dedication ... Lázsló Tábori
Posted by Staff on May 22, 2022
In Dedication…
Some recognized him as that Eastern European gentleman who operated the little athletic shoe store in Burbank. Others assumed he was some sort of guru who supervised dawn training sessions for crazy people obsessed with running. Still others called him "Coach." They were all correct. Many people who passed him on the street in the Los Angeles area had no idea that the senior citizen with the heavy Hungarian accent and twinkle in his eye had been in the spotlight of international athletics in his day.
Lázsló Tábori, now truly belongs to history. Last May, the third man ever to run a sub–four–minute–mile took his place at the line in that paradise wherever great middle–distance runners gather.
Perhaps they all run together again, the world–renowned middle–distance Hungarian running team of István Rozavölgyi, Sándor Iharos and László. Their coach, the uncompromising Mihály Iglói, stands trackside, clutching a silver stopwatch, the hand ticking off tenths of seconds with precision.
László was born in 1931 in southern Slovakia and was raised in northern Hungary, where his father worked at a railway station. As a youngster, László was called upon by his father to deliver messages to people a number of miles from the station. So began his running "training," which entered a new phase during WWII as he practiced stealing food from occupying German troops, sprinting away before he could be captured.
His first official race was one sponsored by the trade school Lázsló attended. The school was attached to a shoe factory, which makes perfect sense. The 3000–meter course took runners along the bank of the Tisza River, through the fields and back into the village of Martfű. He won the race by 400 meters and he was hooked!
Fast–forward to the '50s. László joined Honvéd Budapest, an athletic club coached by Iglói, a former national star in his own right, who attracted the best runners. Iglói included him in a successful three–man running pack that would celebrate their victories by indulging in cake, still a luxury in post–war Europe.
The Hungarian team would collectively break 23 world records, putting in question the supremacy of the English runners. Iglói's men often ran as a coordinated team, with László leading and enabling the more experienced István Rozavölgyi, which caused some to judge László as a lesser athlete.
László proved those who underestimated him wrong, when in London's White City Stadium, on May 28, 1955, he ran the mile in 3:39.0, beating England's Christopher Chataway and Brian Hewson, both clocked at 3:59.8. In so doing, László became the third man—behind Roger Bannister of England (3:59.4, May, 1954) and John Landy of Australia (3:57.9, June 1954)—to run a mile in under four minutes.
László struck again on September 6, when he equaled Iharos' world record in the 1,500 meters with a time of 3:40.8. He would go on to share three world records in the 4x1,500–meter relay with his teammates, as well.
On the eve of the Hungarian team's departure for the 1956 Olympic Games in Melbourne, Australia, a nationalist struggle against Soviet domination plunged their homeland into unrest. Expectations had been high for the runners, but with the uncertainty back home, the athletes couldn't help but be distracted. The long, difficult journey Down Under also wreaked havoc with carefully measured training schedules. Miles away at the Games, László mustered a fourth–place finish in the 1,500m and only finished sixth in the 5,000m.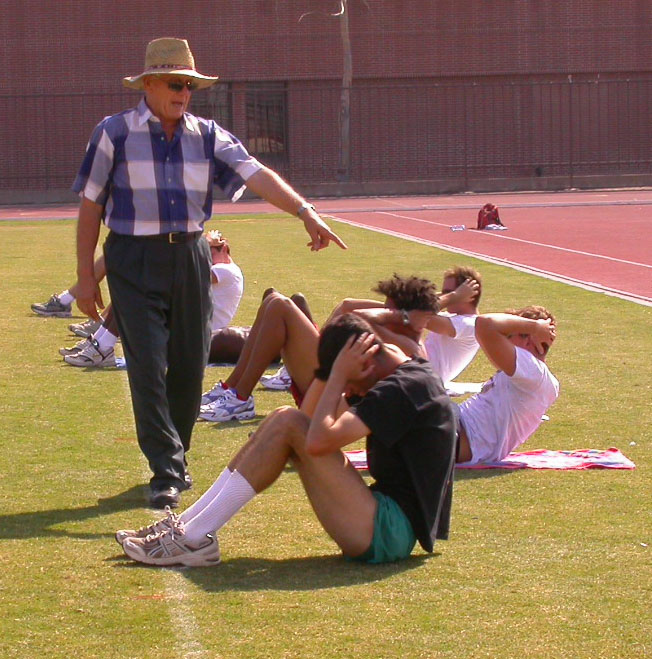 When the time came to fly home to Hungary, some 40 Hungarian athletes and coaches made the pivotal decision to defect to other countries to avoid communist oppression, among them, László and Iglói. With the help of their American contacts from the sporting world, the Hungarians made a new life in California. It was by no means easy, as they had once enjoyed status as state–sponsored European athletic royalty, and life would be very different in the U.S.
László would continue to compete, running under the banner of the Los Angeles Track Club, with Iglói at the helm as it's founding coach. He retired from running in 1962, putting his drafting experience to work in industrial design for some years. He later would own and operate specialty sport shoe shops and become a coach himself, instructing collegiate–level runners at Los Angeles Valley College and the University of Southern California, and providing private coaching to those who sought him out. László also maintained an amateur runner's group based at Fairfax High School which met regularly for a quarter–century.
On the 50th anniversary of his sub–four feat, László's friends surprised him with a party, complete with a sheet cake featuring a photographic rendering of his breaking the tape that historic day in May, 1955.